Hi, like we forecasted a month ago, the yachts are here and so this beautiful season begins in Horta city Marina.
This year's season couldn't have begun in a better way. We are starting June and the whole bay is already full. Horta's Marina broke its record of anchored yachts and it's beautiful. Even if the mooring spots are full, you'll still get a safe heaven in the bay. Horta city's Marina offers you protection and tranquility even if you're not docked, we have the perfect geography. This year catamarans are plentiful, for me the best type of yacht for this year's season. As the Marina (mooring) is full, the catamaran offers more comfort for overnight stays in the ocean.
If you're worried of not having space, stop thinking about it. Horta city's Marina always have room for another yacht. Faial island is prepared for this kind of situations. As you arrive (if requested), a small boat will immediately approach your yacht in order to help you on your docking/anchoring. You'll receive the best advice concerning your stay. This way, you'll be able to leave your yacht anchored and explore the island with "toda a calma" (portuguese phrase/expression for "no worries").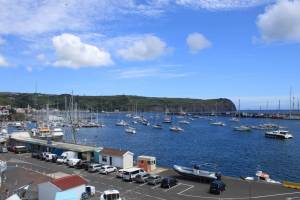 During the pandemic Faial island had time to rest so we are willing and more than prepared to receive you! New business ideas and companies have emerged. Now we're just waiting for you and your feedback in order to always have what you need or seek. The yachts season started in Horta city's Marina and we couldn't be happier. If you like the island feel free to contact us and we'll get you the perfect property for your needs.
Built or not, we can get to everything as we are also registered as a construction company. See you soon!